Vinyl Siding in Spencer, Massachusetts
Looking for Vinyl Siding in Spencer, Massachusetts?
Spencer residents looking for a low care exterior finish should consider the advantages of vinyl siding. Beautiful and durable, vinyl siding in Spencer, Massachusetts needs to be installed by professional contractors with a keen eye for detail. Trust the pros at MTS Siding and Roofing for all of your siding projects, and expect quality service and solid warranties at affordable prices.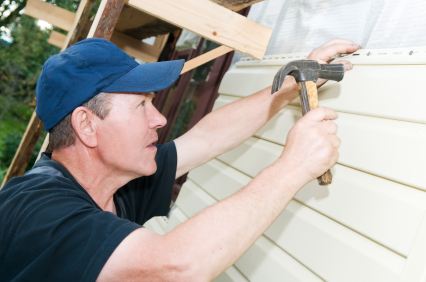 Serving the local Massachusetts region since 2003, our skilled staff provides effective and affordable vinyl siding installation and repairs. When storms rage across Spencer, leaving damaged siding in their wake, MTS Siding and Roofing provides on time service for reasonable rates. And Spencer new construction or home addition projects stay on budget with the help of MTS Siding and Roofing.
Let our quality workmanship transform the exterior of your Spencer home. Vinyl siding panels snap together fairly easily, but it take skilled hands to properly fit corner trim and install vinyl soffit and fascia. The MTS Siding and Roofing crew works hard to ensure every Spencer project is finished well. We're proud to call Spencer our home and strive to help every customer create a stunning, maintenance free finish on their home.
Spencer residents value peace of mind and the MTS Siding and Roofing warranty delivers.
Our workmanship warranty covers the installation process, and manufacturer's warranties apply to quality vinyl siding products. MTS Siding and Roofing helps Spencer clients protect their home improvement investments with valuable warranty coverage.
Vinyl siding presents a beautiful finish on your Spencer home, while virtually eliminating siding maintenance requirements. Take advantage of this superior product installed by the professionals contractors at MTS Siding and Roofing. Our experienced staff work for affordable rates backed by a solid warranty, making vinyl siding in Spencer, Massachusetts a wise option for exterior siding. Call (508) 217-7737 today for more details.

---
Call for FREE Vinyl Siding Quote
---
WHAT CUSTOMERS ARE SAYING:
5★★★★★ - "The owner came out and did the original meeting and I was very impressed with the professionalism. I received multiple bids but no one was as well prepared as Matt. He took the time to explain not just what he was going to do, but why it was being done. He wasn't pushy during the "decision" making process and respected the process. For the work itself, very happy with both the quality and the crew that showed up. Very polite and Matt did a personal walk around at the beginning and the end of the job and again went over any questions I had with the work. Overall amazing experience and would highly recommend and/or be a reference for Matt, MTS."

Johnny B., Shingle Roofs in Spencer, MA

"Matt Sicard (the owner) was very personable and professional. His work crew (of 4) were the best! They worked basically 2 - 12 hr. days to complete the roof replacement, took 20 minute lunch break and did not need to play any music which was just perfect for my wife and I and the neighbors. Clean up at the end of the day and end of the job was right on.. Would highly recommend Matt and his crew very highly."

Roger M., Roof Installation in Spencer, MA

5★★★★★ - "Matt and his crew did a great job, from the first consultation till the final walk through. It was a pleasure."

Anonymous, Roof Installation in Shrewsbury, MA

2018-04-13

5★★★★★ - "Matt was professional and communicated well. Set reasonable expectations."

Dave M., Roof Installation in Charlton City, MA

2018-04-13

5★★★★★ - "Matt was very professional came by to give a quote and show the products that he uses explained the process ,how long it would take and came back to meet with the other owner go over everything with him, only took day and a half ,cleaned and picked up any loose nails,etc.Very happy Matt and his crew did a great job."

Rita C, Roofing in Worcester, MA

2018-02-19

5★★★★★ - "We called MTS Siding and Roofing to do our roof in 2015, and although we had a great experience I never got around to writing a review. Flash forward to 2017. We had a significant rainfall a couple weeks ago and noticed a minor leak in our three-season room, fortunately, it resulted in no damage but we wanted to get it taken care of right away. Which brings me to the point of the review. I called up Matt at MTS and he came out within a couple days. I hoped to get a diagnosis, but he actually found the issue and took care of it on the same visit. Since then we had another significant rainfall, and the three season room stayed dry, problem solved! Cost for return visit two years later: $0.00. These guys care about their business and their customers! I would absolutely use them again!"

Anonymous, Shingle Roofs in Douglas, MA

2018-02-19

4★★★★☆ - "Roof came out 100%. Good price good workers."

Home owner, Roof Installation in Holden, MA

2017-12-18

5★★★★★ - "Matt and his crew were very professional. they showed up on time, completed the job on time, worked very hard from start to finish. No surprise charges in fact no payment made until the job was completed, inspected and accepted by us. would definitely recommend to anyone in need of a roofing job. Thank you Matt!"

Elaine neely N, Shingle Roofs in Charlton, MA

2017-12-18

5★★★★★ - "I received three quotes for a new roof for house and garage as well as new gutters. While all the quotes were in the same range I felt Matt was very professional in his presentation taking his time to explain the products that he would be using. I can't say enough about his crew. They were the hardest group of workers! Matt identified the go to person if I had any questions with the option to call him directly at anytime. Work was completed to my satisfaction. Matt was in communication throughout the project. I would not hesitate to recommend his company. He made a daunting project to me a smooth running project!"

Jane B, Shingle Roofs in Oxford, MA

2017-12-18

5★★★★★ - "Matt from MTS is great to work with and communicates extremely well before and during the process. His crew are hard working and friendly. Would definately use MTS Roofing again. Very satisfied with quality of work and his pricing is very reasonable."

Jay C., Roofing in Worcester, MA

5★★★★★ - "Very good experience working with Matt. Responsive, easy to work with, good communicator. Explained work to be done in detail. Work was done when promised. Highly recommended!"

Adrienne D., Roofing in Hudson, NH

5★★★★★ - "Matt arrived on time, measured the area to be roofed, worked up a price we agreed on, and made an appointment for the day the job could be done all in about a half hour! When the day came to do the roofing everything was just as efficient. I would highly recommend MTS, and plan to use them for another project in the near future"

Edwina D., Roofing in Lincoln, MA

5★★★★★ - "I obtained three quotes before selecting MTS to install a new roof in Auburn, MA. All three quotes came in at roughly the same price; I selected MTS because the owner (Matt) presented as a professional from the getgo - he's an excellent communicator, on time for our first meeting and with every one thereafter, and answered or returned all of my calls. He is very personable and professional and most simply put does what he says he will do. Once selected, he kept me informed of plans, expectations and schedule, and was able to accommodate my compressed time line needs as well. His friendly team arrived as agreed, fully prepped the grounds for stripping the old roof; protected the bushes near the foundation and draped the roof to keep debris out of the garden - all as a routine part of how they do business. As the old roof was removed, there was always at least one person on the ground moving the debris to the dumpster and running a large magnet to keep the nails picked up. The back of the house has a very low pitch dormer (maybe a 2 pitch) where MTS installed a new rubber roof, and architectural grade shingles over the rest. MTS had the old roof removed and new roof installed and water tight in one day, working from essentially sunrise to a half hour past sunset, and came back the next morning to verify the grounds were left fully clean and to finish re-attaching some siding where it was removed to install the new roof. They did an absolutely excellent job, great people and they have my highest recommendation possible. THANKS!"

Matt B., Shingle Roofs in Auburn, MA

5★★★★★ - "Fair honest pricing for exceptional work and product."

Scott C., Roofing in Brookfield, MA

5★★★★★ - "Matt was super trustworthy and as this was a remote project, "communication" and "responsiveness" was key; aces! Not being able to see "first hand" (see above, 'remote'), I can't validate the 'hands-on' but he sent pictures of every stage of the project."

Joe B., Shingle Roofs in Ashland, MA

5★★★★★ - "Very happy with MTS Siding and Roofing. Matt was able to come give me a consultation and estimate the same day I called him. He knew immediately what the issue was and had it fixed within 2 days. Would highly recommend them!"

Lindsay B., Roof Repair in Paxton, MA

5★★★★★ - "Matt was great. We had a more challenging job than initially ought (roof in worse shape than realized). The crew adjusted on the spot and did a good job. They did have to come back and repair some work - but clearly cared about leaving us with a job well done. I would recommend them. Matt is a caring businessman, customers clearly come first."

Megan W., Roofing in Stow, MA

5★★★★★ - "New roof installed.great job, reasonable and friendly."

Cindy C., Roof Installation in Oxford, MA

"Reasonable, timely and quality and customer centric!"

Terry M., Roof Repair in Auburn, MA

5★★★★★ - "Returned call promptly. Was on time and completed work when stated."

Homeowner, Shingle Roofs in Holden, MA

5★★★★★ - "Reliable people. Did exactly what they promised, when they promised."

Homeowner, Roof Installation in Framingham, MA

"MTS did a super job on my roof, they removed and replaced two layers of old shingles and replaced them with GAF product shingles with a warranty of 50 years, his workers were good and fast, they even repaired part of the roof that was badly damaged and no extra cost, even replaced and shingled my little shed, that was not even talked about or priced in. Matt was very friendly and to the point, went out of his way to get me samples and made sure the installation and cleanup went as planned...Very happy with the finished job."

Cam A., Shingle Roofs in Worcester, MA

5★★★★★ - "Matt's team did a fantastic job and finished ahead of schedule. The quality of their work was exceptional from installing the new roof to completing their clean up. I would definitely recommend MTS Siding and Roofing to anyone needing a roof replacement."

Richard B., Roof Installation in North Brookfield, MA

5★★★★★ - "Matt's crew came in and replaced the roof in a day. The job was on time and on budget. They took great care to protect the house & shrubs from damage. In addition, Matt registered the roof warranty at the factory."

Bob Rhodes in Auburn, MA

"MTS Siding & Roofing installed our new asphalt roof on 10/5/16. Matt Sicard the owner of this business had met with us to help us understand all the aspects of an excellent new roof. He explained everything to our satisfaction. No funds were required until the job was finished. His crew did an excellent job with the installation and the cleanup. Matt was available whenever we contacted him with questions about the job,cleanup,and the removal of the dumpster. We had a rainstorm on 10/9/16 and were pleased not to have any leaks. I would certainly recommend Matt Sicard and his business to those seeking a new roof!"

Harriet S., Roof Installation in Lexington, MA

"When Matt gave me the estimate, he not only gave it to me in writing but also explained everything he and his crew would be doing in detail. He said that he would not expect payment until the work was complete. Once he and his crew arrived they were professional and extremely thorough. They completed the job along with the clean up in one day. Matt assured me that he stands by his work and if I have any questions or problems with anything to let him know. I would definitely recommend MTS Siding and Roofing Company to anyone interested in roof replacement and/or repair."

James P., Roofing in Waltham, MA

"Matt had great communication, I had a lot of questions and he answered them all. He explained everything in detail. His crews were professional. The cleanup was excellent. I would recommend him to anyone."

Tim D., Roof Repair in Southborough, MA

"Matt came recommended to me from a friend who had used his services and was happy with the work he did for her. He was the third estimate I received. I hired him not only because he had the best quote, but because he took the time to explain everything that was going to be done to the roof and how it would be done. He was very patient during the whole process, especially as I had a lot of questions throughout the entire process. He answered his phone and if he wasn't able to answer he returned calls within a short time frame (even on Saturday). His employees are very hard workers, very respectful and cleaned up all the mess made from the roofing tiles and debris. Matt made sure to visit several times each day to make sure the work was progressing on schedule and that the cleanup was thorough and to my satisfaction. Very polite, professional and respectful and would highly recommend him and his crew."

Laurie G., Shingle Roof Replacement in Worcester, MA

"Matt is a total pro. The quote process was explained clearly with full detail of the work to be done and answered all my questions. The price was right on and without any sales gimmicks. He even went above and beyond providing shingle samples making it easy for my wife and I to pick a vendor and color. The roof was completed in a day as quoted with the specified materials. The cleanup was also top notch and Matt followed up the next day to make sure the work and cleanup was to my satisfaction. The roof looks great!!!"

Tony C., Asphalt Shingle Roof in Marlborough, MA

"Great price/service and quality!"

Homeowner in Milford, MA
Ranked 5/5 Stars

"The roof on my home was getting old and we wanted to get it replaced before we started to have any issues. Matt from MTS was the first to come out and give me a quote for the project. He did a great job explaining what they would do, the materials they used, etc. Part of my roof was an addition with a newer roof which I was considering doing as well. Matt looked at it and recommended that there was no real need to do that section unless I wanted to instead of pushing the additional work. He gave me a very reasonable quote for the work on replacing the old roof sections. I had two additional quotes done for this project, but I felt that Matt did the best job keeping his appointments and explaining the work and had the best price! Once the job was scheduled Matt arrived with his crew in the morning and again reviewed the project with me. The crew got to work quickly putting up tarps and removing the old shingles. The project was finished by that evening and they did a great job of cleaning up everything and protected everything so there was no damage to the house, etc. The new roof looks great and the entire project went very smoothly! Highly recommended!"

Josh S., Roof Installation in Marlborough, MA

"WOW! You do not find customer service like MTS Roofing and Siding very often!! Matt is knowledgeable, efficient, responsive, professional and wonderful to deal with! The roofing crew was on time, pleasant, fast, did a great job and they cleaned up EVERYTHING! No nails or anything left behind. Matt even came by to make sure that the crew was all set in the morning and then came back at night to be sure that I was happy with everything. UNBELIEVABLE customer service!! I would hire Matt again for sure and I have already recommended him to 2 other people. In addition to his great customer service, his price was competitive with others that I received quotes from too! He made getting a new roof so easy! Thanks Matt!! I love the new roof!"

Sharon G., Install Asphalt Shingle Roof in Framingham, MA

"Matt is very professional and knows his trade. He did exactly what he promised without any surprises."

Donald L. in Auburn, MA

"MTS was very responsive throughout the entire process on our roofing project. From the first meeting with Matt, to the contract signing and the actual work, MTS was very professional. I was told what to expect and Matt and his team delivered. In addition, the roofing crew was very respectful towards our gardens and the clean up work after the project. We are very pleased with the roofing job and would highly recommend MTS to our neighbors."

Jeff D. in Boxborough, MA

"Had roof replaced, 2 old layers removed competitive pricing. They use 6 nails per shingle tab versus 3-4 like most installers. Available and came out within 24 hours after I had a question about adding solar on top of new shingles. Best service in Central Ma"

Philip D. in Charlton, MA

"MTS was extremely responsive and did a great job. Matt, the owner, was the first to come quote my job, was very available to talk and answer questions, always picked up his mobile when I did need to contact him, and he was able to so the job very quickly after we finalized the contract. His quote was also very competitive, but the materials and labor were top-shelf. I'd highly recommend MTS."

Ronald N. in Acton, MA

"A fan unit on my roof was leaking. The roof was icy & we tried to wait until it cleared. Matt kept in touch with me as we waited it out. The roof was still icy days later, but Matt came & got the job done anyway. I appreciated the great communication & the fact that he worked with me. I will definitely consider hiring MTS in the future!"

George W. in Framingham, MA

"We recently moved into an older house, and we knew one of the first projects we needed to tackle was a new roof. MTS responded promptly to our request for a quote, and came back with a number significantly lower than the other company we spoke with who was using the same materials. There was very little delay in starting the project once we decided to go forward. The day before, we were told via phone call exactly what to expect, and the entire project was complete (including excellent clean up) in just one day. MTS made the entire process painless, and I would highly recommend them."

Ted D. in Leicester, MA